main - Projects
prev - Projects -> Argus Array -> 1 Hardware
next - Projects -> Argus Array -> 1 Hardware -> 2 Electrics
Projects -> Argus Array -> 1 Hardware -> 1 DriveArray
After playing with some ideas for how to build this as cheap as possible, we discovered these steal L-bars at a local hardware store. They are L shaped, so they wont bend. They have evenly spaced holes, to make drive mounting easy. Of course, a normal hard drive screw is not long enough to go through the bar and into the drive. We did some searching and found that hard drive screws use standard #6-32 bolts (technically they are bolts, as their threading is defined accurately enough for a nut to be attachable, but that is the whole bolt vs screw argument). I'm going to call everything screws or bolts as I feel. We got some longer #8-32 "screws". (The #6 describes the diameter, and the 32 defines the threading. It is 32 threads per inch or something like that)

So with 4 angle bars and some boxes full of screws and washers, we were able to build the basic array frame. The top and bottom has dead drives that are just there for structural support. The bottom drive is bolted to the wooden footing below. If I were to do this again, I would add some spacers (probably washers) between the structural drives and the bars and add a few more structural drives in the middle of the array. Some of the drives are very hard to get in and out because of how tight the bars are next to the drives. If I spaced out the structural elements, that wouldn't happen (probably).

Here is the assembled frame with a few drives in it: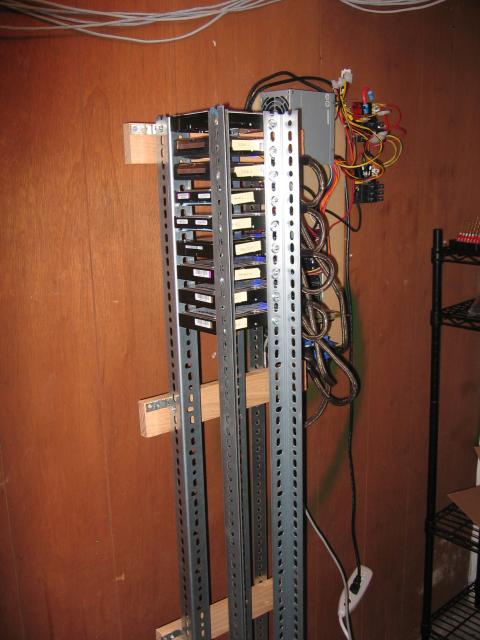 main - Projects
prev - Projects -> Argus Array -> 1 Hardware
next - Projects -> Argus Array -> 1 Hardware -> 2 Electrics
---


projects blog
©1999-2007 Joseph Gleason. Duplication of above materials prohibited without express written permision. All Rights Reserved.