main - Projects
prev - Projects -> Argus Array -> 3 Stations
next - Projects -> Argus Array -> 3 Stations -> 2 TheBike
Projects -> Argus Array -> 3 Stations -> 1 LivingRoom
The living room as a 37" LCD TV with true 1080p support (1920x1080 over DVI or HDMI). Nevermind that DVDs are what, 640p? Shutup. Futureproof. Yeah. Anyways, in my experience connecting a computer to a TV without DVI is a horrible pain if you actually want it to look good. Gotta love DVI where the display can just tell the idiot OS what its resolutions are. Saves alot of playing with mode lines and such.

The sounds is a Denon receiver. You can tell it is good because the relays are loud. Also, it has a microphone that you can place where you want the sweet spot to be. It then blasts static, freaking out my cats and adjusts the time delays and volume levels of the channels. Pretty sweet.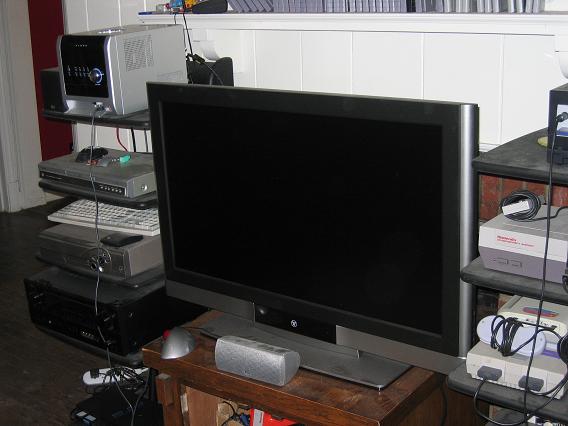 main - Projects
prev - Projects -> Argus Array -> 3 Stations
next - Projects -> Argus Array -> 3 Stations -> 2 TheBike
---


projects blog
©1999-2007 Joseph Gleason. Duplication of above materials prohibited without express written permision. All Rights Reserved.